What is Hard Water?
Hard water is a common problem for Greater Lehigh Valley and eastern Pennsylvania homes and businesses. While hard water isn't unsafe, it can cause a wide range of problems, from dry skin to soap scum.
Hard water has a high mineral content, which can cause problems for your appliances, plumbing, clothes and even your skin. It typically develops when groundwater flows through limestone, increasing levels of magnesium, calcium and other minerals in the water. Hard water can occur in both wells and public water supplies.
At Long's EcoWater Systems, we provide hard water treatment services to soften well and city water.
CALL TODAY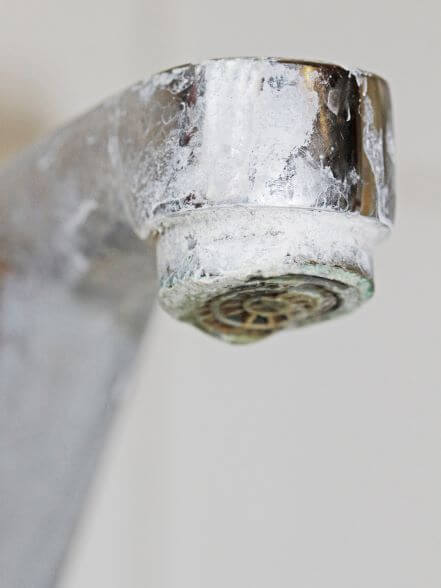 Signs You Have Hard Water
If you're experiencing any of the following issues, you may have hard water:
Faucets and fixtures covered in a hard-to-clean white film.
White spots on glasses, dishes and silverware.
Soap scum on the bathtub or shower.
Dry skin and hair.
Itchy scalp.
Dull, stiff or unpleasant-smelling laundry.
Shortened life spans for water-using appliances.
Excessive amounts of soap needed to create suds.
Our Water Softening Services
Long's EcoWater Systems is here to help with your hard water problems. We provide free water testing for hardness so you can find out how hard your water is. Based on your test results and the type of water you have, we'll recommend the best water softener system to soften your hard water. 
Hard Water Treatment for Public Water
People often think hard water only occurs in wells, but it's just as likely for public water to be hard. We recommend the EcoWater Water Refiner System to treat hard public water.
The EcoWater Water Refiner System is the next generation of water softening systems. The refiner removes hardness, chlorine and sediment and improves water taste using half of the salt of other softening systems. The EcoWater Refiner has earned these agency seals: ISO 9001, 2 Gold Seals of Approval from the Water Quality Association and several plumbing seals. This long-lasting softening system offers a bonded lifetime warranty on the media inside the unit while using half the less salt than other softeners on the market.
Hard Water Treatment for Well Water
Many families in Greater Lehigh Valley and eastern Pennsylvania get hard water in their wells. Our EcoWater Conditioner removes hardness, sediment, manganese and iron for softer, higher-quality water. This long-lasting softening system offers a bonded lifetime warranty on the media inside the unit. It also uses much much less salt than other softeners on the market.
This advanced system is available in a single- or double-tank design to accommodate your specific water softening needs. Call Long's EcoWater today for you next water softener installation.
Benefits of Our EcoWater Softeners
Our EcoWater products are the highest quality water softeners on the market. They provide many benefits, including:
Softer water using 50% less salt and 25% less water than other brands.
The best bonded warranties in the business.
Top tier third party certifications.
Manufactured and assembled in the USA.
Up to 29% less energy consumption by your water heater.
Brighter, softer laundry while using up to 50% less detergent.
Reduced scale buildup in plumbing.
These products are also compatible with the EcoWater app, which allows you to conveniently monitor your water system and usage from anywhere at any time. The app automatically sends alerts and reminders when your system is low on salt, using more water than usual, experiencing an error or in need of service. They can even act as leak detection, which has been a lifesaver for many.
Contact Us for Hard Water Treatment Services in Pennsylvania
Long's EcoWater Systems is your trusted source for hard water treatment in Greater Lehigh Valley and eastern Pennsylvania. When you work with us, you'll gain access to top-notch products and certified, experienced service technicians.
Get in touch with us today to schedule your free hard water testing. Once we get your results, we'll help you find the perfect treatment solution to take care of your hard water problem for good.
Pam D. via Google

We are so happy with the results of our Long's EcoWater System! I didn't realize how hard our water was until it was tested - and what a difference the treatment makes! Now, our glassware sparkles, wash is brighter, hair is bouncier, skin is softer, hard water stains are gone. Long's staff and technicians were helpful and professional during the entire process from scheduling the consultation through installation.
I wish I had called Long's sooner!
Get Your Water Tested Today!