Water Treatment Solutions for Your Business
Water quality impacts many aspects of your business, from how your coffee tastes to how long your water-using appliances last. Many businesses in Greater Lehigh Valley and eastern Pennsylvania deal with poor water quality, which causes a range of issues, like stained fixtures, spotty dishes, appliance performance issues, and potential health issues.
At Long's EcoWater Systems, we offer commercial water treatment services to address your business's water problems with customized solutions.
Who We Work With
Long's EcoWater Systems is proud to serve businesses throughout Greater Lehigh Valley and eastern Pennsylvania. Whether you need bacteria-free water or an industrial water softener, we have a range of solutions to meet your needs.
We work with businesses of all sizes across a range of industries, including:
Restaurants
Breweries and wineries
Warehouses and factories
Office buildings
Apartments
Hotels
Police stations and firehouses
Stadiums
Places of worship
Daycares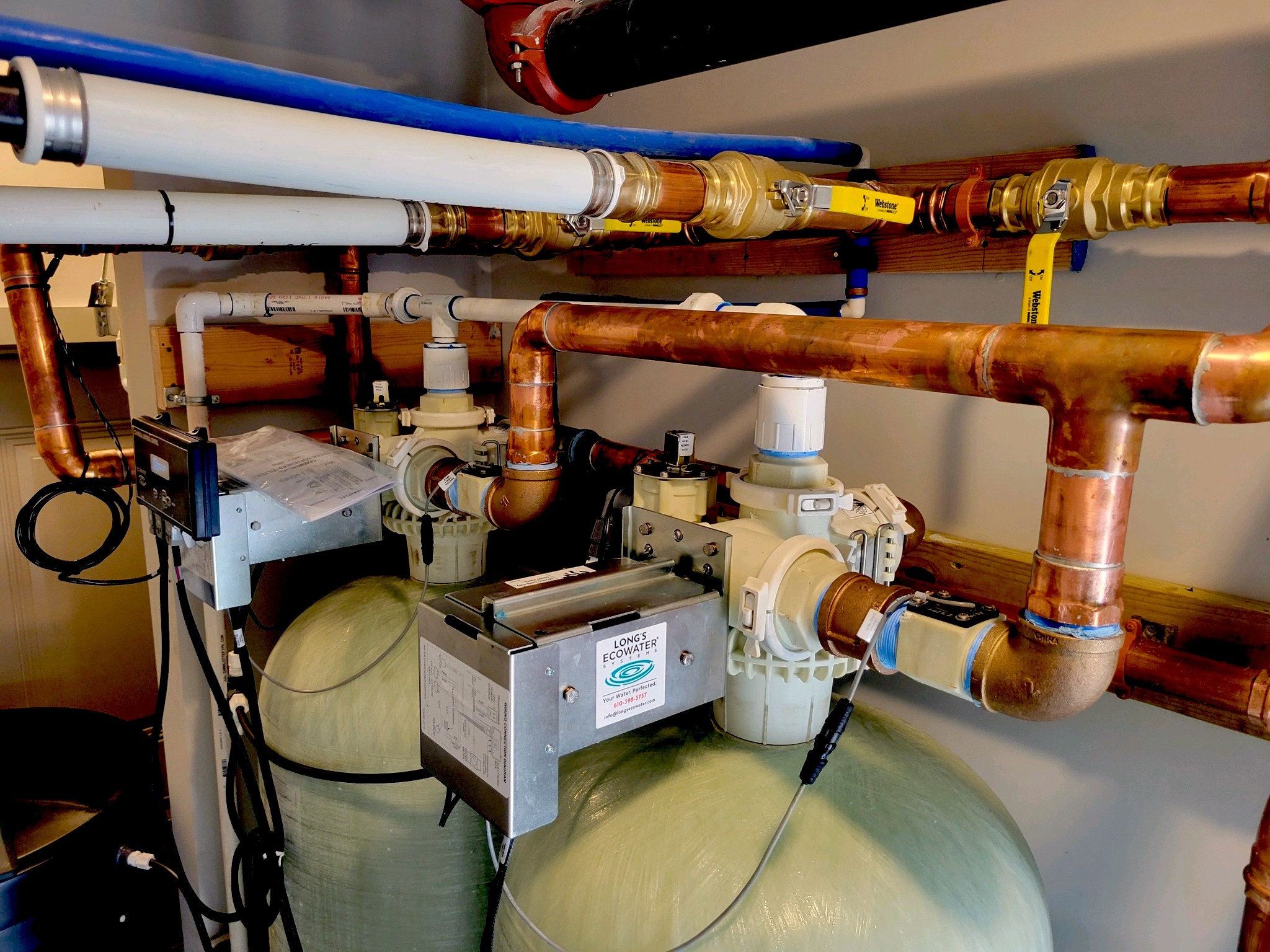 How a Water Treatment System Can Help Your Business
A commercial water treatment system can provide many benefits for your business, including:
Improved equipment performance: Any type of water-using equipment — such as dishwashers and boilers — can benefit from a water treatment system. These systems prevent mineral and sediment buildup, which can damage your equipment and result in expensive repairs or replacements.
Lower operating expenses: A water treatment system can save your business money by reducing your energy consumption and the amount of water you use.
Better health for everyone: Your customers and employees will be healthier and happier with access to clean, good-tasting water.
Our Commercial Water Treatment Services
When you contact us for commercial water treatment, we start with a water consultation — including a free water test — to evaluate your water. We partner with state-certified water testing labs to get the most accurate results. Once we know what's in your water, we recommend a customized solution to meet your business's unique needs.
Depending on your specific water issues, we may suggest:
Water refiners: These systems remove hardness and chlorine from your water. They are ideal for businesses using public water.
Water conditioners: These systems remove hardness, iron, manganese and sediment from your water. They are recommended for businesses using well water. We can also perform repairs on commercial water softeners.
Reverse Osmosis (RO) drinking water systems: These systems remove harmful contaminants like VOCs, PFAS, and lead from your drinking water.
Ultraviolet (UV) water treatment systems: These systems use UV light to remove bacteria from your water.
Benefits of Our Commercial Water Treatment Services
We offer top-quality water treatment products and services to improve your business's water quality. All our equipment is manufactured by EcoWater, the world's oldest and largest water softener manufacturer. Their systems offer superior water purification while using less water and energy than other leading brands.
What's more, we've served businesses in the Greater Lehigh Valley and eastern Pennsylvania for more than 70 years. Business owners in the area count on us for clean water solutions that save their companies time and money while ensuring everyone's health and safety. Check out our highly-rated reviews!
Commercial Water Treatment Near You
Long's EcoWater Systems is a top commercial water treatment company in Pennsylvania. Reach out to us today to learn more about our commercial water testing and services.
Businesses we work with include:
Barbara F. via Google
As a Realtor serving the greater Lehigh Valley, Long's has always been an integral part of my business!
I always know when I call them I am going to get a live person on the phone who is highly knowledgeable in their field and trustworthy!
Get Your Water Tested Today!
"We are so happy with the results of our Long's EcoWater System! I didn't realize how hard our water was until it was tested. What a difference the treatment makes! Now our glassware sparkles, wash is lighter, hair is bouncier, skin is softer, and water stains are gone. I wish I had called Long's sooner!"
Pam D. - Google Review
"We spoke to Long's and in about a week the problem was solved! They were responsive, professional and had a clear understanding of this issue and how to fix it, and keep it fixed."
Erik E. - Google Review
"I look forward to many many years of wonderful service from my new water conditioner and of course my pressure tank! If you are looking for a company to install a softener/conditioner, these are your guys."
Kimberly D. - Google Review